Anxiety: A spiritually based approach to healing & dealing with anxiety.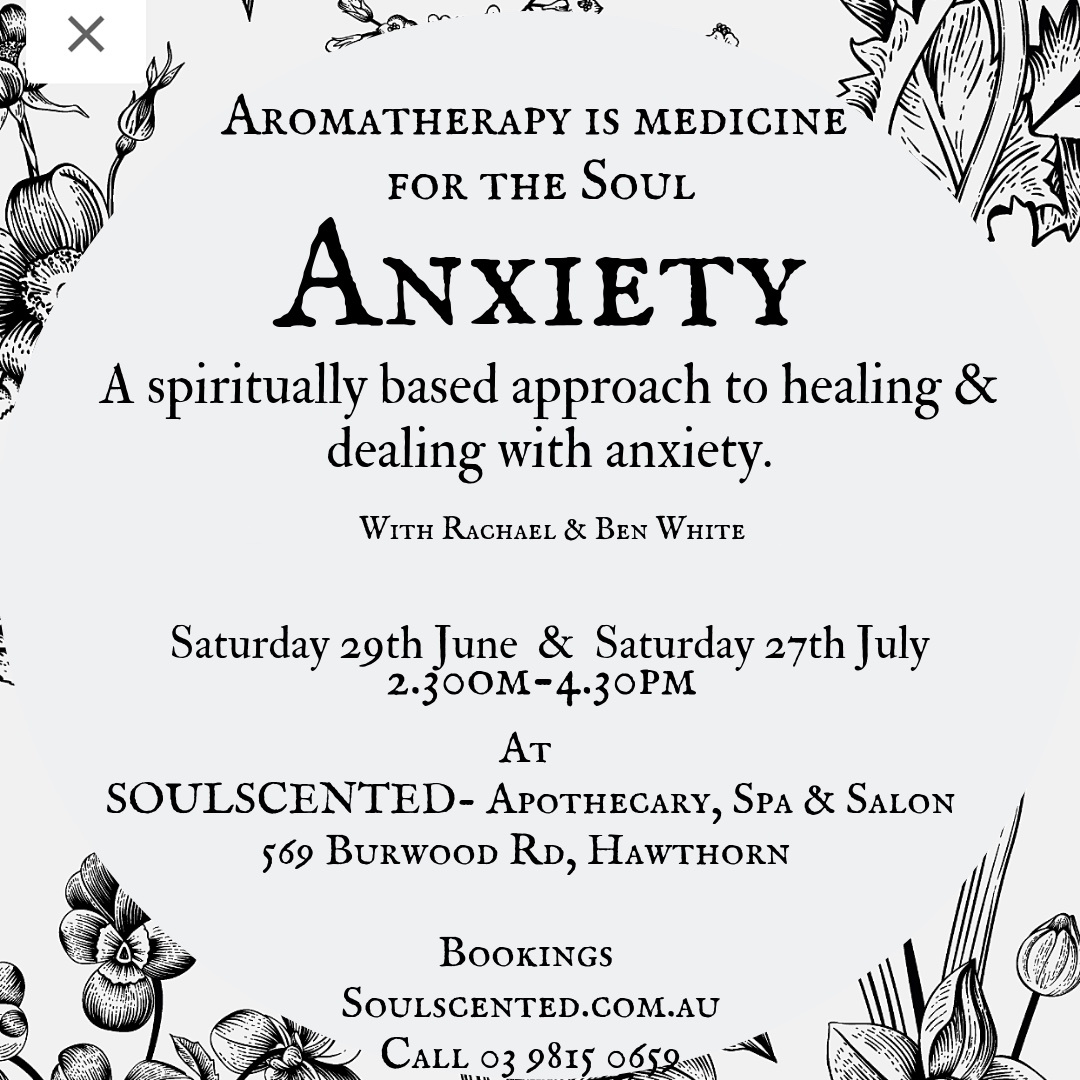 Anxiety: A spiritually based approach to healing & dealing with anxiety.
Aromatherapy is Medicine for the Soul Series
Anxiety
A spiritually based approach to healing and dealing with anxiety with Rachael & Ben White

Anxiety is the most common mental health issue impacting Australians. In any one year, around 1 million Australian adults have depression, and over 2 million have anxiety.[i]It is not unusual for families to face health issues. Most will turn to conventional medicine to at least treat if not cure them.
But what happens when those methods don't work?
In fact, instead of getting better, they get worse.
This is what happened to Rachael White and her family. Rachael's husband Ben was diagnosed with clinical depression and anxiety. After many years navigating the health system with her husband and fearing she would loose him to suicide she turned her back on conventional medicine and opened up to her spirituality to allow herself to be guided on how to heal her family of mental illnesses she had been told was incurable.
It was at this crisis point that another, completely unexpected path opened. Rachael's grandmother and the Angels came to Rachael and Ben and over an intensive two-year period, they developed a powerful relationship with angels and spiritual guides.
"We went on a journey that taught us how to live in harmony with the soul's purpose, to trust in the power of intuition and spiritual guidance, and, ultimately, to heal ourselves of our illnesses and lead spiritually-abundant lives."
Having received the knowledge on how to heal her family. For over a decade Rachael's husband now lives anxiety free. Divine guidance saved her husband from mental illness and a life of anxiety and depression.
In this workshop Ben will share his story of healing his anxiety and Rachael will share the wisdom and guidance she received from the angels and spiritual guides that she used to support her husband and clients to heal from anxiety.
This includes:
Rachael & Ben will share their experience.

Spiritually based insight into anxiety.

Understanding Energy and Emotions for dealing with anxiety

How to work with Angels and spiritual guides for anxiety support.

Rituals and Healing practices that support the journey to healing anxiety.

How to use Aromatherapy for healing anxiety.


This two hour workshop is part of the Aromatherapy is Medicine for your Soul Series. We will be exploring aromatics to support healing and dealing with anxiety as well as rituals and daily practices.